SatysScan
Bring feedback to your client.
Collecting feedback always within hand's reach. Both with NFC and QR code.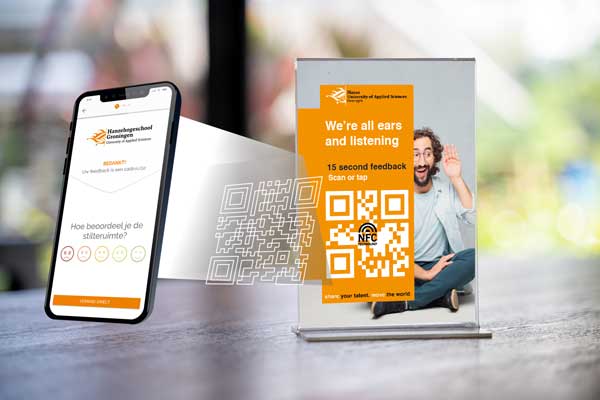 For everyone, always available
SatysScan can be used in different ways and has everything to do with the device that is nowadays indispensable in our society: the mobile phone. Everyone always carries one with them and that makes this way of collecting feedback not only a very simple but definitely also a cheap possibility. 
NFC and QR technology
How does it work? Very easy. Satys offers two possibilities: QR & NFC. The most famous possibility is the scanning of QR codes. Every smartphone has a camera which can 'scan' QR codes. Use your camera, aim for the code and within a few seconds the smartphone scans the code and the questionnaire will automatically appear on your screen.
Near Field Communication (NFC) is maybe less known but definitely not the least. It works as follows: a chip is hidden in a poster, table or other object. Hold your phone close to the chip and by means of the NFC technology, which is also in your phone, the chip will be recognised. The questionnaire will automatically appear on your screen.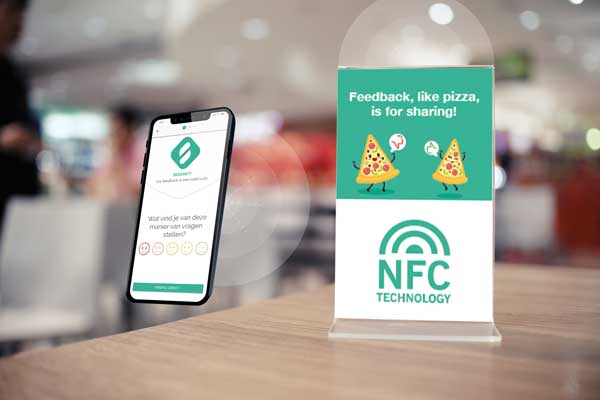 Contact us for the possibilities!
Competent and professional
The advantage of Satys's method is that we can quickly receive feedback "on the spot" from students and employees. As a result, we can promptly work on our improvement areas.
Flexibility
During the course of the research, changes can easily be made, and another aspect can be investigated.
Support
Before, during and after the research you receive the best support from us in order to properly structure and optimise your research.
Direct
With Satys's tools you can measure directly and 'on the spot' after a customer experience.
Fun
Satys's tools offer your guests the possibility to give their feedback in a fun and easy way.
Simple
We make sure that the collection of guest experience is as easy as possible for you. With the best software and the proper support.
Valuable Insights
We do not only provide an indication of the overall satisfaction in the form of a smiley or a thumbs up, but we particularly look at the potential of improvement.