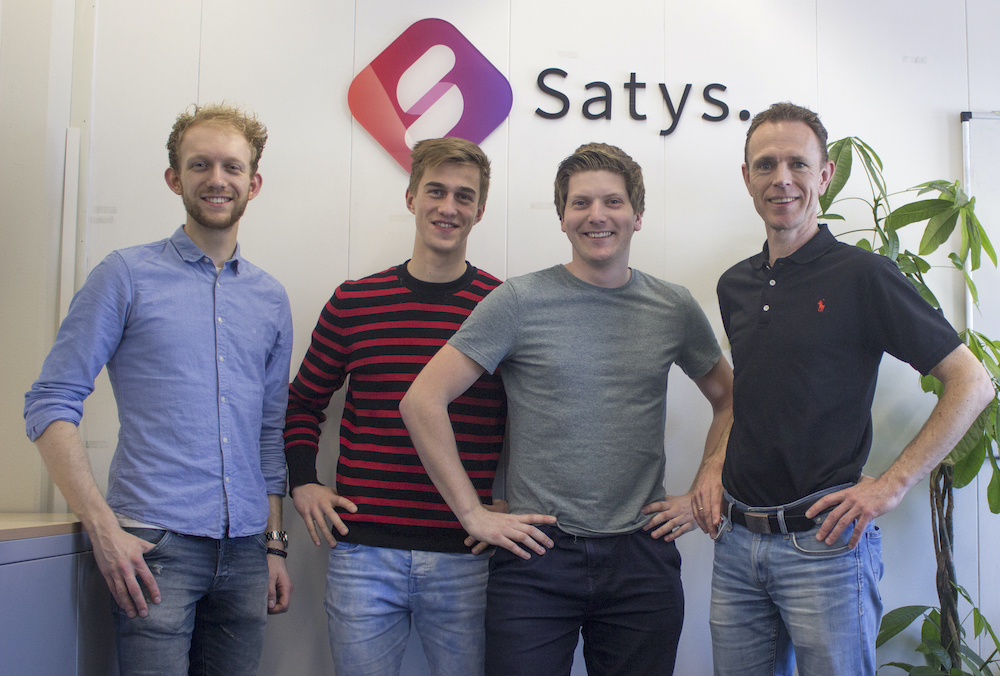 Work for Satys.
Growth. High-tech. Challenging.
Do you want to work at the most satisfying tech-startup? Great news! Satys is constantly looking for new talent. Besides an exciting job, Satys also offers you the great opportunity to climb the career ladder. Do you have affinity with modern technology? Do you want to work in a team in which you can really make a difference? Then quickly respond to one of the vacancies below or send us your open job application.
At this moment we are looking for: 
Backend Developer | 32-40 hours
TL;DR: Well-versed in Python, a little with Ops and not averse to working in the front-end

Building things that really matter? At Satys you work on our state-of-the-art platform for enterprise clients. You will be involved with the complete process, from UX design to developing and maintaining applications within our platform.
At Satys we work with the modern BizDevOps philosophy, which closes the gap between business, development and operations. This ensures that the code you write will actually permanently adhere to the wishes of our customers. The requirements of our customers are converted into business processes which automatically power our platform.
At Satys you will develop and manage your own tasks and services. That's why we'd like you to have an understanding of, or your interest in, how a micro-services infrastructure operates.
Satys is both a young team and a team with a much (50+ years) valuable experience in software development, technology and architecture. This unique mix make for an incredibly pleasant working environment in which you can actually learn much in the field of software and personally develop your soft skills.
What will you bring with you:
Smart brains

You have a passion for working systems
You like to solve problems as simple as possible
You have the capacity to take a step back to get a better view of the problem and find the best solution

You enjoy working in a team

You are creative in finding solutions
You are a team player with a positive image
Knowledge and experience:
Experience with Python


Experience with git or other version control systems

Not too afraid to touch the front-end

Some experience with Ops and relational databases like MySQL and PostgreSQL

Good command of the English language

What do we offer:
A great working atmosphere with young, enthusiastic colleagues

A wealth of knowledge and experience of which you can learn

Many opportunities to grow the career ladder
Working on a high-end system with the newest techniques (Kubernetes, Istio, Zeebe, CI/CD etc.)
Learning how to work with new technologies
Would you like to start building the future of a fast-growing startup together? Together with you we want to utilise your capacities and talents the best way possible for you and Satys. We want to discover how we can utilise your talents and capacities to help organisations even better to become experience driven.
Interested? Then send your motivation & CV now to [email protected].
Senior Commercial Employee | 32-40 hours
TL;DR: The eyes and ears of Satys in the market which allows you to determine our future strategic course

Do you want to grow with us and help us creating value in experiences? Then you've come to the right place. In order to stay at the top in the future, we are looking for a dedicated colleague for our office in Groningen who, with heart and passion, can make Satys a little bit better every day. We are young and fresh, lines of communication are short, but at the same time we are also a structured and professional organisation. We are Satys. Are you?  
What will you be doing: 
As a Commercial Employee you are responsible for the development of new and also existing relations. You are the person who visits potential clients, and you know how to convince them effortlessly of Satys's services. You understand how it works, you know the market, and you know better than anyone else how to capitalise on opportunities. You take a leading role in the acquisition, and you continuously fill the pond with new clients. You map out the needs of the clients and translate those to concrete solutions with support from our specialists. You are sharp, focused and you are capable of making the necessary difference. You enjoy the dynamics of our company and the sector, and on top of that you have a winner's mentality. Carrying out presentations for potential clients and relations are some of your strengths, and you always have the right answer ready. In summary: 
You are Satys's business card for both national and international clients
You are not afraid of doing cold acquisition and know how to get yourself seated at the table with the right people
You are solution-oriented and good at discovering needs
You help on the basis of the input of the market- by determining the development path
You think together with the client and by doing so you find the best solution together
You translate the needs of the client so that the operational department can satisfy the client in no time.
What will you bring with you:
Commercial experience (minimum 3 years)

You like to get in touch with people and do so easily
You have a passion for sales
Your communication style is characterised by openness
You enjoy working with clients
You are creative in finding solutions
You are a team player with a positive image
You are fluent in Dutch and English
Knowledge of the sector of provision of contractual services
What do we offer:
A pleasant working atmosphere with young, enthusiastic colleagues

Many opportunities to grow the career ladder
Possibility to share your thoughts on a strategic level
A good pay
Extra: Bonuses for taking on new clients
Interested? Then send your motivation & CV now to [email protected].
Intern UX Design
TL;DR: Develop unique UX regarding data visualisation

At Satys we are looking for UX/UI Designer interns. In this role you will support designing and developing the user interface of our platform. You will mainly work on new and unique ways to convert data into useful (visual) insights for our users. We find it extremely important that you are communicatively competent and a real team player.
Interested? Then send your motivation & CV now to [email protected].
Open application
We are always open for new talent! Do you think it would be awesome to work for this growing organisation? Then send you open application to [email protected].
Satys | Guest experience is the ultimate key to growth.