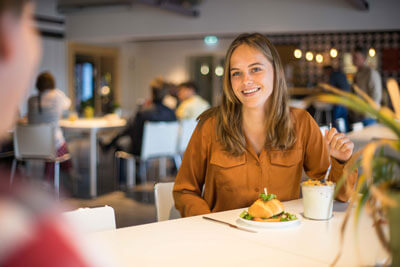 Work for Satys.
Growth. Fun. Challenging.
Satys is constantly looking for new talents! Besides a super fun job, Satys also offers you the great opportunity to climb the career ladder. Do you have an affinity with guest experience and the catering sector? Are you analytically strong? And do you consider doing analyses and research (in a fun way) as a challenge? Then quickly respond to one of the vacancies below or send us your open job application.
At this moment we are looking for: 
Senior Commercial Employee | 32-40 hours
Do you want to grow with us and help us creating value in experiences? Then you've come to the right place. In order to stay at the top in the future, we are looking for a dedicated colleague for our office in Groningen who, with heart and passion, can make Satys a little bit better every day. We are young and fresh, lines of communication are short, but at the same time we are also a structured and professional organisation. We are Satys. Are you?  
What will you be doing: 
As a Commercial Employee you are responsible for the development of new and also existing relations. You are the person who visits potential clients, and you know how to convince them effortlessly of Satys's services. You understand how it works, you know the market, and you know better than anyone else how to capitalise on opportunities. You take a leading role in the acquisition, and you continuously fill the pond with new clients. You map out the needs of the clients and translate those to concrete solutions with support from our specialists. You are sharp, focused and you are capable of making the necessary difference. You enjoy the dynamics of our company and the sector, and on top of that you have a winner's mentality. Carrying out presentations for potential clients and relations are some of your strengths, and you always have the right answer ready. In summary: 
You are Satys's business card for both national and international clients
You are not afraid of doing cold acquisition and know how to get yourself seated at the table with the right people
You are solution-oriented and good at discovering needs
You help on the basis of the input of the market- by determining the development path
You think together with the client and by doing so you find the best solution together
You translate the needs of the client so that the operational department can satisfy the client in no time.
What will you bring with you:
Commercial experience (minimum 3 years)

You like to get in touch with people and do so easily
You have a passion for sales
Your communication style is characterised by openness
You enjoy working with clients
You are creative in finding solutions
You are a team player with a positive image
You are fluent in Dutch and English
Knowledge of the sector of provision of contractual services
What do we offer:
A pleasant working atmosphere with young, enthusiastic colleagues

Many opportunities to grow the career ladder
Possibility to share your thoughts on a strategic level
A good pay
Extra: Bonuses for taking on new clients
Interested? Then send your motivation & CV now to [email protected].
Satys | Guest experience is the ultimate key to growth.