SatysTab Feedback Column
Measure directly on location.
Make sure that your clients can give their feedback in a quick, fun and at the same time valuable way.
With this unique feedback column you can collect valuable feedback in an easy and quick way. By asking only 3 to 5 questions, SatysTab can exactly find out what people think and why they think so.
Find out what people think and even more importantly why they think so
You can directly see the feedback that you collect with SatysTab. Do you see a decline in your satisfaction? Adjust immediately and measure the results. In addition, we at Satys offer reports per period that are drawn up by our experienced 'feedback analysts'. By doing this, we establish links and we give you tools for the future.
Listening, learning and anticipating are essential components to keep your clients satisfied. SatysTab is the perfect tool for this.
The feedback tool for every organisation!
Content is fully customisable

Follow-up and open questions possible in different forms

Lay-out completely in the design of your organisation

Built-in power bank for extra long battery life

SatysTab will be delivered and installed

Assistance from Satys always within hand's reach

Realtime feedback 

Accesible, easy and quick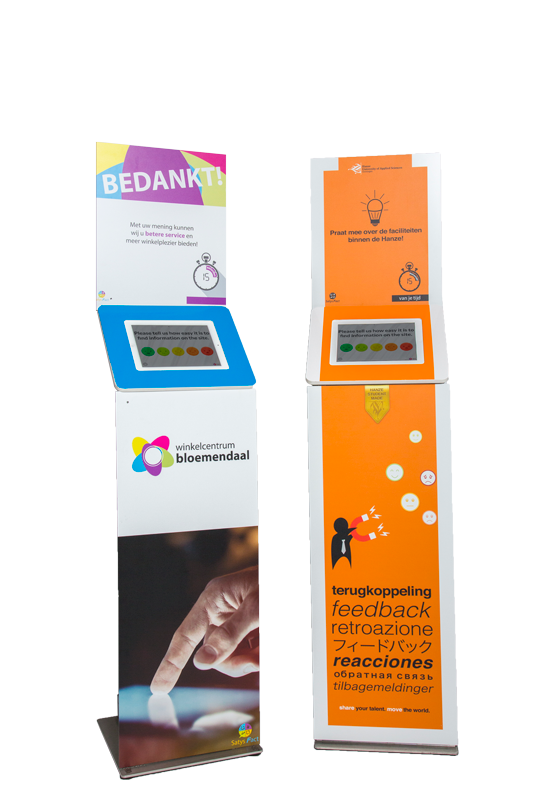 Contact us for the possibilities!
Competent and professional
The advantage of Satys's method is that we can quickly receive feedback "on the spot" from students and employees. As a result, we can promptly work on our improvement areas.
Flexibility
During the course of the research, changes can easily be made, and another aspect can be investigated.
Support
Before, during and after the research you receive the best support from us in order to properly structure and optimise your research.
Direct
With Satys's tools you can measure directly and 'on the spot' after a customer experience.
Fun
Satys's tools offer your guests the possibility to give their feedback in a fun and easy way.
Simple
We make sure that the collection of guest experience is as easy as possible for you. With the best software and the proper support.
Valuable Insights
We do not only provide an indication of the overall satisfaction in the form of a smiley or a thumbs up, but we particularly look ath the potential of improvement.