"Greatly improved user satisfaction & relation with our client!"
Ton van Griensven, Operationeel Manager Business Services Canon

Satys supports Canon in the company-wide and structural research of their user experience. Canon works with the University of Amsterdam and the Hogeschool van Amsterdam and provides them with Print, Repro, Post and Creative services. Satys conducts the user research together with Canon. We asked Ton van Griensven, Operational Manager Business Services Canon, for his experiences with the services of Satys and what it has yielded. Curious about how this went? We will tell you more about it in this success story!
The goal
Ton: "The purpose of the user research is to ensure that Canon gains insight into the current user experience and the development of the user's needs with an independent and professional party. We also find independence very important to prevent business blindness."
Canon aims to understand user experiences in order to develop products and services and streamline services. That way, the company can focus on the future of their user experience. This allows Canon to discover what is going on among users in order to anticipate and improve.
The results
The relationship with the client has greatly improved because the focus shifts more towards collaboration in order to better serve students and staff.
Canon has obtained an unprecedented amount of valuable insights thanks to the interactive dashboard. Canon indicated that it still uses this dashboard on a weekly basis because it provides such a complete and clear overview of things that score well – but also on the areas where improvement is possible.
"Based on the insights from the user survey, we have started several new projects. Canon, for example, is now making its services even more accessible," says Ton.
The University of Amsterdam acknowledges the (positive and independent) user feedback on the services provided by Canon. This ensures a stronger collaboration and the insights help Canon with the the contract period.
Canon can is able to listen even better to their users. By keeping the wishes of the end user in mind, Canon can improve the services and as a result increase the turnover. 
Canon has planted 20 trees because Canon and Satys linked a donation campaign to the user research.

Canon Business Services is a leader in providing comfortable office work soltutions for clients by providing products and services that help increase office productivity.
Experiences
"Previously, we carried out the user research ourselves with Google Forms and QR codes. However, we noticed that this did not work well and that no useful results or insights emerged at all. You try to fly but cannot lift off the ground. Without a professional third party like Satys you simply cannot do this successfully," says Ton van Griensven.
Canon recognized the need for a structural and company-wide approach and contacted Satys. Canon wanted to take a broader look at the services and use the findings in communications with the University of Amsterdam. This resulted in a better relationship with their clients.
How do you like the approach?
Ton: "Canon offers a very diverse range of services. This requires a flexible approach because users come into contact with the various services through many different routes. Satys understood this very well and acted accordingly."
"Because Satys has a lot of experience, it immediately felt good. You still expose your company, then it should feel confidential. We were looking for a young and fresh company. Previously, we used more expensive solutions that yielded much less. Satys came up with ideas that I could not have come up with myself and immediately understood the business. It is a unique approach as it is a real collaboration. We have gone from playing amateur football to Champions League football."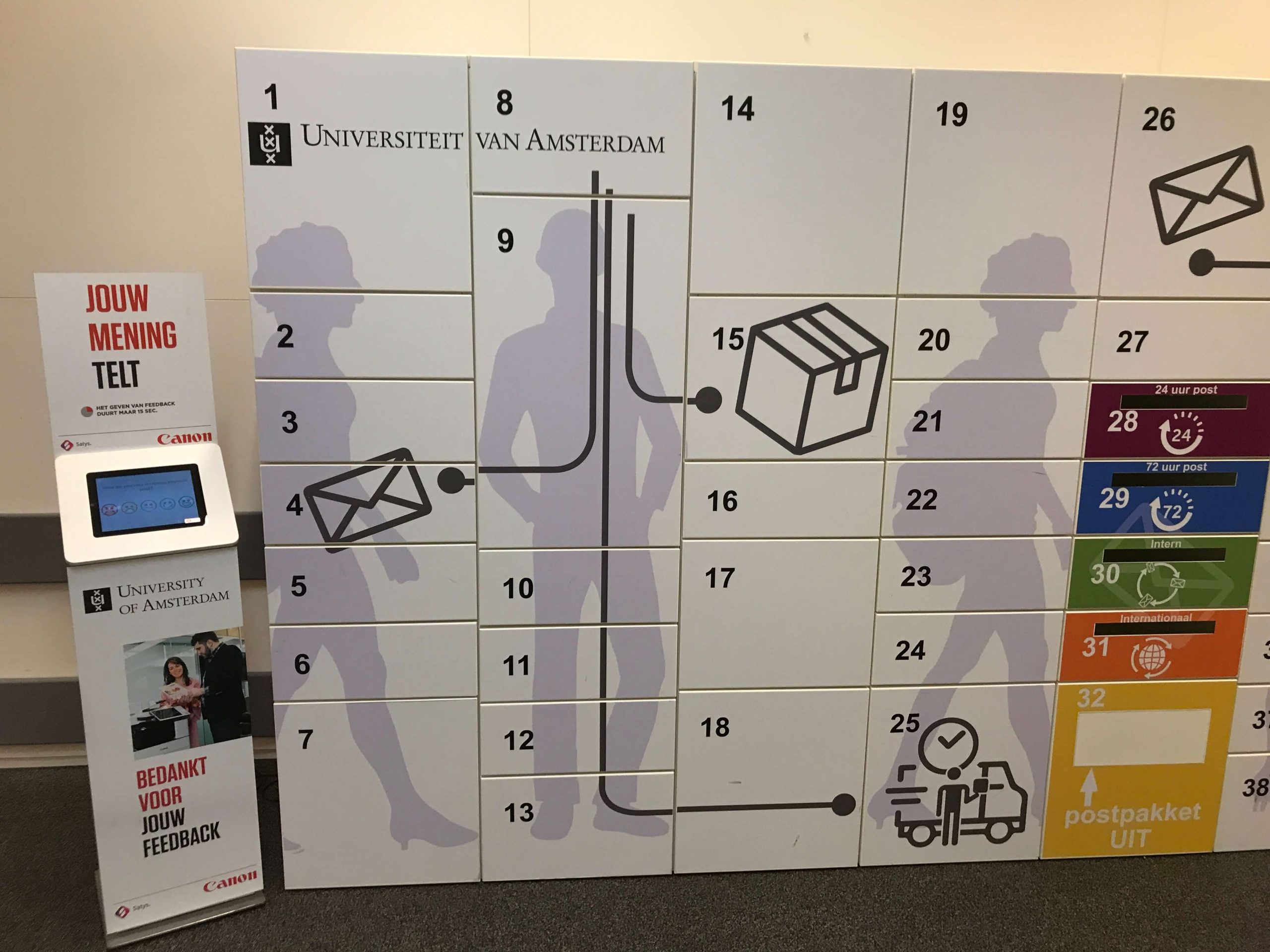 Canon & Satys – A success story!
When Canon began their collaboration with Satys, it was never thought that these results would have such an impact. "User experience became a leading pillar within the services provided at the University of Amsterdam. I did not expect that!"
As a result of the insights in user experience, new, successful projects have been started and Canon has improved communication with their client and users.
Contact us to explore the possibilities!
User-friendly
Prevent survey fatigue by making feedback part of the guest experience with accessible and user-friendly tools.
State of the art platform
Benefit from a future-proof SAAS solution with evolving features for guest experience.
Independent feedback tool
Create company-wide structure with a unified, holistic approach. Take a big step toward a single vision that maps out your organization's overall experience.
All valuable insights in one place
Skip the fragmented methods and systems. Centralize guest experience data for actionable insights in one place.
Modular service
Scalable modules, flexibility and customisable service – everything via SatysMarketplace.
Support from A to Z
Opt for independence and ease in setting up a professional feedback process. Go beyond basic satisfaction metrics with simple, insightful surveys.