Know what they think with

profitable insights
Go further than an indication of satisfaction and gather insights which you'll really increase your profitability with!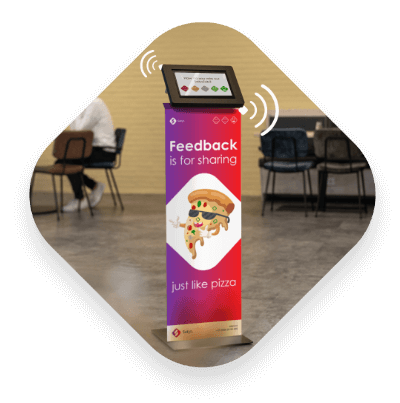 From just a pass to an 8 in just two months
With Satys we've been able to greatly improve our guest satisfaction. I very positively experienced that you are so well invested into the subject and really think along with us. Satys takes a lot of work out of our hands. I want to compliment you for the professionalism you radiate.
Below you see how caterer Eurest uses Satys to gain unprecedentedly detailed insight into the experience and satisfaction of their guests.
Winsight
Continuous insight
from €
39
/

month (ex. VAT)
Profitable insights up to location level

Real-time & continuous insight in customer experience

Discover the most important points of impovement and handle them right away
Compare yourself with competitors using extensive benchmarking
Scalable solution developed by experts
Accessible questionnaires
State-of-the-art dashboard

Security by design & GPDR compliant

Increase your chance on winning tenders
TLDR: Releive from start to finish
Corporate
Oversight & insight on all locations
from €
2.999
/

month (ex. VAT)
Everything in Winsight, plus
Support for all executed research
Conclusions and recommendations from experts
Innovative user management & extensive role management
Your own question bank which fits your organisation's needs
Your own experience expert at your service
Integration with internal BI dashboard
Bid consultancy about customer experience, win more tenders
Cusom solution?
Indespensible independent advice
Unique API integrations
Win more tenders with bid-consultancy
Complete releive of your feedback process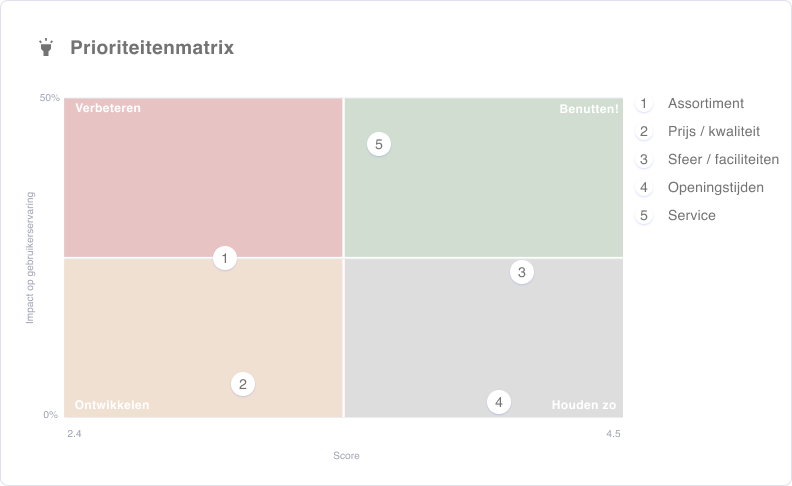 Profitable priorities

Priority matrix

At a glance you can see what's happening using our unique priority matrix. In fact, you instantly know where your valuable attention should be directed to improve. This way you achieve maximum result when using our intuitive dashboard and you can quickly change without having any knowlegde of data and data analytics.
You can generate this priority matrix on any desired level based on the KPI and subjects you defined. This gives you a unique peak into the needs and wishes of your customers!
Manage your KPIs

Profitable oversight

To show your boss, client or team that you deliver a darn good job, you have probably defined one ore more Key Performance Indicators (KPI). In our platform, those KPIs are key to your insights. This allows you to instantly have oversight over which areas your score is good and where you should improve.
Clients feast on these numbers and with an independent party as Satys this only yields even more smiling faces.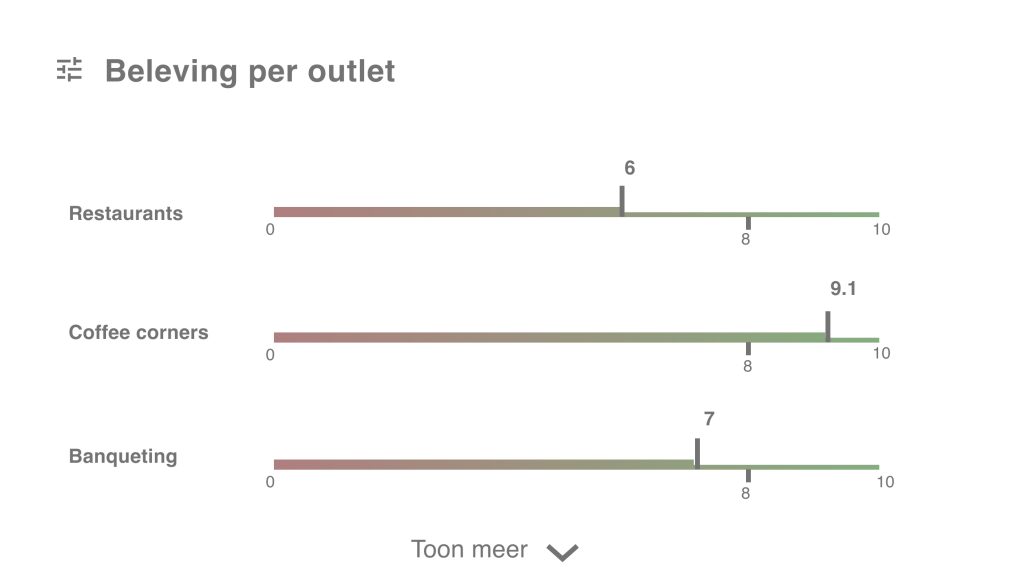 Your next step to success

Leading insight in customer experience
Using the smartest techniques and the newest innovations you are ensured of the most accurate and up-to-date insights into your customer's satisfaction.

Insights you can actually act upon
With just a glance you can see what to improve or where to give compliments.
Supported by the best experts
At Satys you'll find the best experts to fully support you from A to Z. Don't have a clue on how ta ask a question or what the results mean for you? Our experts are ready to help you out!
Continuously stay on top
Using our lean feedback loop, you can continuously stay on top of your customer satisfaction. With short-cycled measurements you can immediately measure the result of made changes.
Everything in one place
With us you're never locked into a tool. Simply connect your current questionnaires and you can start immediately! And when you want to leave? No problem, your questionnaire system still has all your data as well.

Insight at every level
Staff in the workplace can move other dials then managers or directors. That's why every role gets their own dashboard with fitting insights.

All insights in one place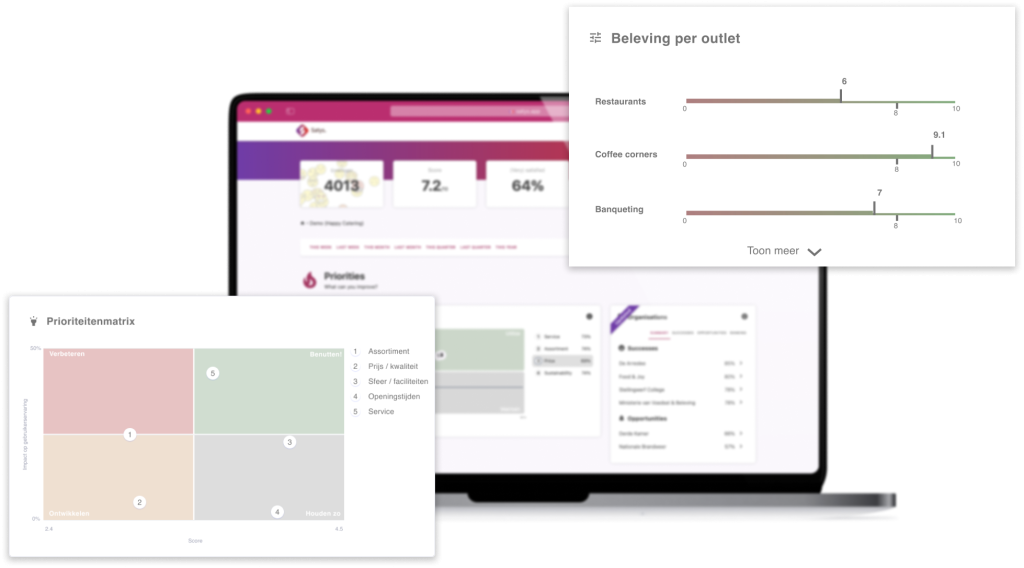 Satys's reliable platform offers a constant insight and overview of the guest experience, for example, with an organised priorities matrix. Our platform structures the collected data, which will allow you to quickly and effectively draw the correct conclusions. With our advanced dashboard you can almost effortlessly find answers to complex issues. With the help of AI, Satys is able to convert data into valuable insights and will give you tools which will really help you to improve.
experiences have been collected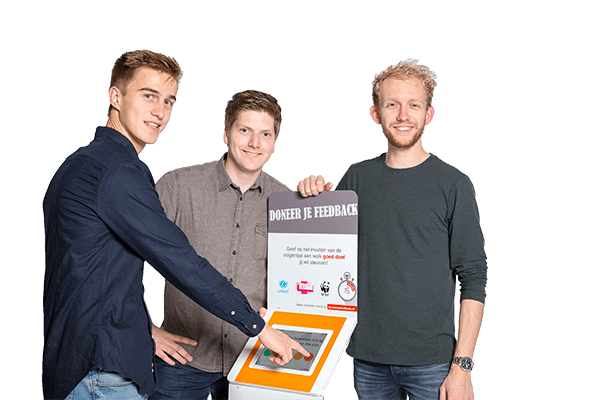 Yes, I want a demo!
Completely free of charge, of course.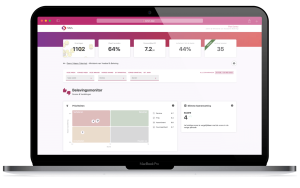 Get free personal advice for your specific situation

During a personal demonstration of Satys' platform, you'll have a conversation with an experienced adviser. During the demonstration…
✓ we discuss your wishes
✓ you see how Satys works
✓ you discover how Satys supports your organisation to maximize its grip on customer experience
✓ we calculate a price
Together we take a look at solutions of Satys and how this will lead to profitable insights in your situation.
Find out why our customers are so happy!